New Applicants
Are you ready to begin the process to become a North Texas LEAD candidate? Start with our easy online application.
Begin Here.
Archive for April, 2010
Monday, April 12th, 2010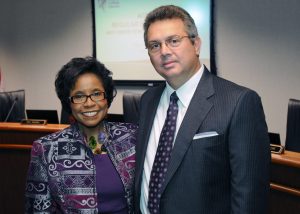 By Gyna M. Bivens
The dream of casino bonus that perfect position will become a reality for many job-seekers in 2010.   One thing we know with certainty:  Those who are positioned, prepared and pragmatic will find those jobs.  Two recent hires from the LEAD resume database make us all proud.  Horatio Porter, City of Fort Worth Budget Manager and Mark McClendon, Vice Chancellor of Finance for Tarrant County College District (pictured) have stepped into their roles as if these positions were tailor-made for them.  I am convinced several other LEAD candidates will have the same successful experiences in 2010.
My optimism is not based on tea leaves or wishful thinking, but the fact that retirements deferred are now occurring.  Friends who delayed retirement in 2008 feel financially confident enough to push the workplace exit buttons and give thanks that their 401k plans didn't permanently collapse.  Believe it or not, a total of 64 LEAD candidates found jobs last year —-in spite of the economy.  That fact is a perfect segue into my optimism for 2010.
We begin 2010 with new members Saxon Mortgage and University of North Texas Health Science Center joining our consortium of major employers committed to workplace diversity.  Being at "THE TABLE" for the first board meeting of 2010 was absolutely exhilarating.    The tone was serious.  You could see the optimistic satisfaction on our chairman's face.  He was glad to hear these leaders affirm their efforts to hire diverse talent would not only benefit their companies and the job-seeker; these efforts benefit the entire region.   We are seeing the image evolution occur as diverse professionals realize they don't have to look to Atlanta, Chicago or Los Angeles to find a welcoming culture.  They can look to North Texas.  I was really surprised to learn applicants from as far away as Beijing and Canada are applying with North Texas LEAD.
This year is going to be a good year.  Those job-seekers who are positioned to seize opportunities, prepared to take ownership of their future and pragmatic in their job search efforts will find those jobs in 2010.  It is going to be a good year.
FEATURED PICTURES & VIDEOS
Dr. Vistasp Karbhari
, President of the University of Texas at Arlington, speaks about the importance of workplace diversity.

Judi Camerano on #NTxGivingDay
20 Sep 2016

I found North Texas LEAD to be a gem in the midst of a vast job seeking search. LEAD provided invaluable services with regards to interviewing techniques, resume assistance, coaching, networking and ultimately endorsement. I was interviewed by a professional and diverse panel who wholeheartedly embraces and projects diversity. Their endorsement was one which epitomizes […]

READ MORE
Brian Modrzejewski on #NTxGivingDay


Becoming a candidate for North Texas LEAD was a defining moment in my career. I had recently been laid off and back in the market to start a new chapter in my career. I realized that I hadn't been on a real interview in a decade and I was feeling a little out of touch. […]

READ MORE